Samaritan Legacy
A Sunday school lesson became a reality in 1912. The Biblical tale of the "Good Samaritan" prompted Jessie Lewis Clark, a partner in the successful animal health and nutrition producer Hess & Clark, to conceive of building a community hospital in Ashland where no sick person would ever be refused care. The facility was naturally called Samaritan Hospital.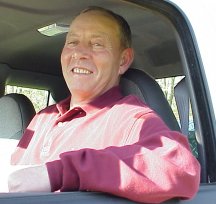 "Numerous family members have been forced to go out-of-town for a heart catheterization. Now, with Samaritan's new Cath Lab, I received the care I needed right here in Ashland on short notice."


Lisle Liston
Ashland resident
& Cath Lab patient
That 27-bed hospital continually grew along with the needs of the community and the county. Today, Samaritan Hospital is part of a growing health network that is known as Samaritan Regional Health System. (SRHS).
Maintaining the legacy guarantees a future of wellness for families throughout central Ohio. Samaritan Hospital serves the healthcare needs of people who live in Ashland and Richland counties, as well as visitors to our tourist communities. SHRS is also a strong provider in specialized health services. Low-risk cardiac care enables Samaritan patients to get convenient heart treatment without traveling to other cardiac facilities. Our Rehabilitation Program helps people return to independence through facilities in both Ashland and Loudonville. The Samaritan Sleep Lab discovers pathways to restorative rest and health, while Women's Health Services addresses health issues for women of all ages in a comfortable and private setting. Finally, our Kettering-Samaritan facility in Southern Ashland County offers convenience and comfort for outpatient visits.
SRHS is proud to continue a legacy of community care with a sincere commitment to high quality at the heart of the organization. Whether it is hospitality extended to patients and visitors, or gentle compassion that is demonstrated in the practice of medicine, our values of compassion, respect, integrity, and service excellence are constant.
Through forward planning, SRHS links healthcare demands with future community needs.