Samaritans Club Votes to Purchase $42,000 of Much-Needed Equipment for Hospital
October 5, 2015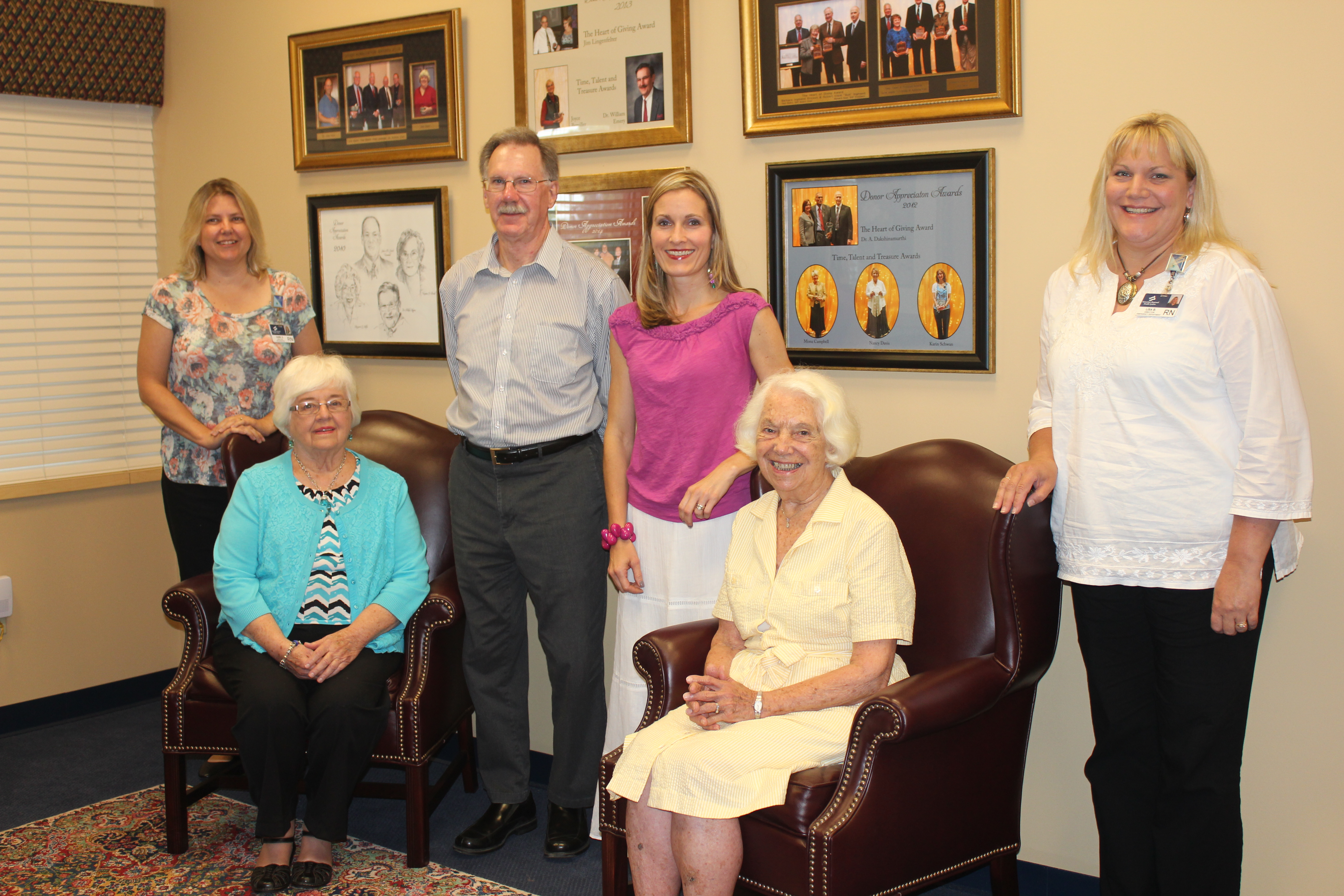 Pictured standing from left to right is: Dawn Sparr, Dir. Of Acute Medical Surgical Units-SRHS, Samaritan Club Members – Hal Sheaffer and Calley Chandler, and Lisa Bushong, Director of Emergency Room-SRHS: seated from left to right, Samaritan Club Members – Joyce Kiste and Joan Crissinger
Members of The Samaritans Club, a 152-member annual giving club of Samaritan Hospital Foundation, met recently to decide where their annual donations would best assist the hospital in improving patient quality of care. Included in the 58 members present were members of The Samaritans Club, The Caring Hearts, The Heart of Giving Circle, and The Star Club which represent different levels of giving within The Samaritans Club.
Danny Boggs, President/CEO of Samaritan Regional Health System; Richard Beal, President of SHF; and Jerry Seiter, Development Director of SHF presented organizational updates. Mona Campbell, Programs and Community Relations Director of SHF; Karin Schwan, CNO/VP Patient Care Services; Lisa Bushong, Director of Emergency Department; and Dawn Sparr, Director of Acute Medical Surgical Units of SRHS presented the SRHS Equipment list.
The Samaritans Club meets each year to learn about what's going on at Samaritan Regional Health System and Samaritan Hospital Foundation and to vote on equipment purchases for the hospital with their accumulated dues. The club's $21,000 in dues was matched by SHF, allowing club members to purchase several important equipment items totaling $42,000. Items purchased by the Club included: a Cove recliner for the Acute Medical Surgical Unit, a cardiac monitor for Ambulatory Care Medicine, a Lucas 2 Chest Compression System for the ER, a Stainer Hemotology for the Lab, and a blanket warmer for the Sleep Lab.
In addition to The Samaritans Club, The Star Club, which is the hospital employees' giving club, also contributes and votes to purchase equipment for the hospital. In 2014 the group purchased $35,520 worth of equipment. Since its inception, the Star Club has purchased $163,350 worth of equipment for Samaritan Hospital.
To become a member of The Samaritans Club or for more information, contact Samaritan Hospital Foundation at 419-207-7900.