Samaritan Hospital Foundation honors individuals who work tirelessly to improve the lives of others in our community
October 5, 2015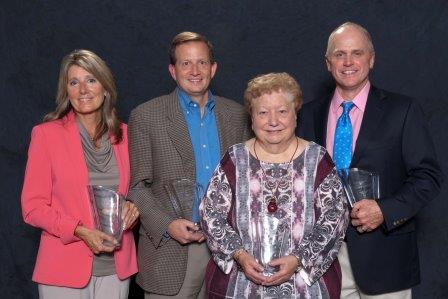 2015 Award Winners, from left to right, Polly Chandler, Rob Ward, Edna Cox and Mike Spreng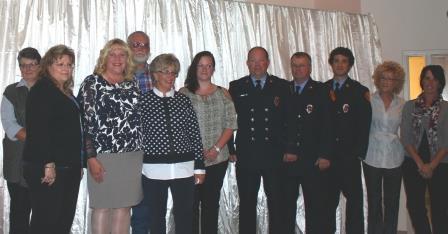 2015 First Time Out Responders Picture, from left to right, Pam Kramer, Rhonda Mowry, Lisa Bushong, Jim Kramer, Lora Callihan, Brooke Massie, Steve Cellar, Christopher King, Anthony Coletta, Lori Spicker and Susan Noblet.
More than 170 gathered for Samaritan Hospital Foundation's annual Heart of Giving Donor Appreciation Dinner that took place Oct. 1 at Samaritan on Main. The event is a celebration of individuals in our community who give of their time, talent, treasure and service to make a difference in Ashland County.
Bev Spreng, SHF board member, Richard Beal, President of SHF; Jerry Seiter, Development Director of SHF; and Mona Campbell, Programs and Community Relations Director of SHF presented a touching video showing how emergency care professionals in our community came together to save a life and how the Lucas2 Thumper Chest Compression System, purchased by SHF, freed up rescuers to perform other life saving tasks throughout the cardiac emergency.
Four individuals who work tirelessly to improve the lives of others were honored with the SHF Heart of Giving Award:
Mike Spreng received the award for his generous heart of service that has touched so many lives in the Ashland community throughout the years. In addition to always supporting and caring for members of the Ashland community through his dental practice, he was a founding member of the Ashland City Schools Academic Foundation and Distinguished Alumni Organization, served on the YMCA Board of Directors, served as a deacon in First Presbyterian Church, and hosted the annual Turkey Party fundraiser for the AHS Athletic Boosters for several years.
Siblings Polly Chandler and Rob Ward, who together with their family's business, Ward Real Estate, have continued their father and grandfather's long-standing history of making Ashland a better place through service to the community and generously giving back. Just a few examples include more than 25 years of teaming up with the Ashland Fire Department for the annual Toys for Tots program, decorating Ashland with thousands of flags to celebrate our country's independence, and devoting time and talent to countless organizations and boards.
Edna Cox, retired SRHS Director of Ambulatory Care Medicine, was recognized for a lifetime of caring for and serving others in the Ashland community. Described by co-workers as compassionate, fair, knowledgeable, stands up for what she believes, Edna has been a valuable asset to Samaritan Hospital for more than 45 years.