Samaritan Hospital Foundation Golf Classic Raises Funds for Health and Wellness Initiatives
August 12, 2015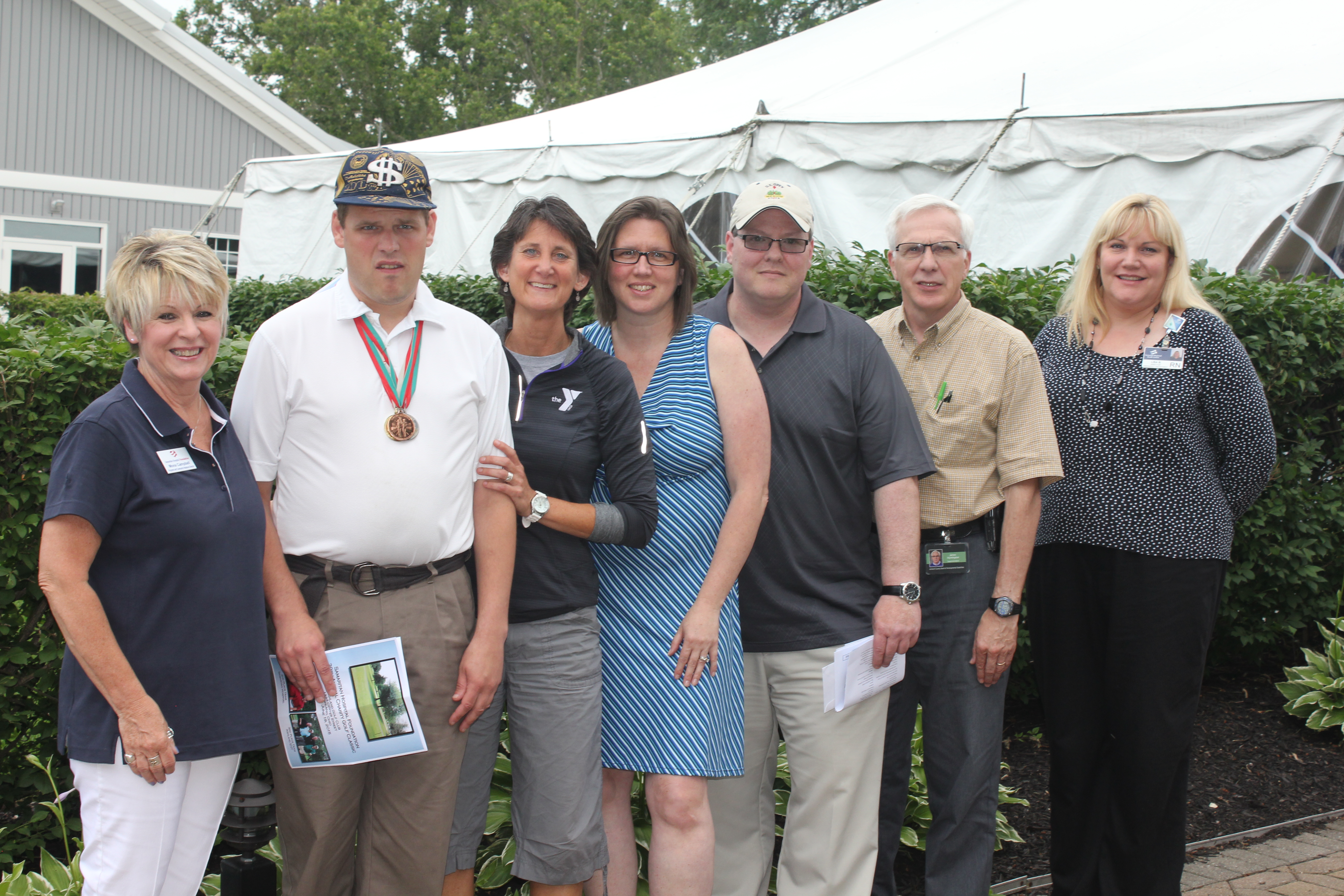 Pictured from left to right: Mona Campbell-Samaritan Hospital Foundation, David Pervier-Special Olympics, Molly Riley-Ashland YMCA, Cheryl Benway-Ashland Christian Health Center, David Ross-Mental Health and Recovery Board, Jim Huntington-Ashland County Board of Developmental Disabilities, and Lisa Bushong-Samaritan Regional Health System
Proceeds from the Samaritan Hospital Foundation's 29th Annual Charity Golf Classic, held June 19, are improving the lives of individuals in our local community. Thirty teams played in the scramble at the Ashland Golf Club to support and enhance health and wellness initiatives in Ashland County.
The winners in Flight A included first place team sponsored by Cowen Truck Line. Team members consisted of Jeff Litz, Scott McVey, Frank Groves, and Pete Rukavina. In second place was the team sponsored Leonard & Terzola Co., Ltd. Members were Jeff Leonard, Mike Buckingham, Jim Messner, and Paul Myers. Finishing in third place was the team sponsored by Samaritan Hospital. Members included Kip Matteson, Tim Baum, Ev DeVaul, and Steve Paramore.
The winners in Flight B included first place team sponsored by Shakley Mechanical. Team members consisted of Dave Brown, Paul Kehl, Greg Cobb, and Kyle Cobb. In second place was the team sponsored ECI Healthcare Partners. Members were Blake Jones, Chad Kaufman, John Peck, and Jeff Pindel. Finishing in third place was the team sponsored by Westfield Bank. Members included Jeff Honaker, Tim Baker, Zach Spicer, and Mike VanDine.
Major sponsors of the event were: Simonson Construction Services – Tournament Sponsor, University Hospitals – Dinner Sponsor, Cerner – Lunch Sponsor, Brouse McDowell – Hole In One, Morrison Management Specialists – Cart Sponsor, RBD, Inc. – Raffle Sponsor, Axia Advisory Corporation – 19th Hole Sponsor, Bricker & Eckler – Driving Range, and Lutheran Village Assisted Living – Program Sponsor.
Samaritan Hospital Foundation donated approximately $15,000, funded in part by proceeds from this year's golf outing, toward the purchase of a LUCAS 2 Chest Compression System for Samaritan Regional Health System. The new equipment is designed to help improve outcomes of sudden cardiac arrest victims and improve operations for Emergency Room staff by performing at least 100 compressions per minute. The LUCAS System not only standardizes chest compressions, but helps prevent rescuer fatigue and frees up ER staff to focus on other life-saving tasks.
Additionally, $5,000 of the proceeds were given to the Ashland County Board of Developmental Disabilities to purchase an EasyStand Evolv standing device to give wheelchair-bound students the mobility to stand, promoting health benefits as well as improved self-esteem and social development. The Ashland YMCA received $5,000 to fund the Ashland County Special Olympics for the 2015 season. Athletes will be using the YMCA gym for basketball games and practices and are provided pool time for training and coaching with AHS swim coach Krissy Geren and her student athletes. Another $5,000 went to the Ashland Christian Health Center, which cares for Ashland County residents who are uninsured or under insured, for the purchase of pharmacy supplies and medication. The Mental Health and Recovery Board also benefited from charity golf classic proceeds with a $5,000 donation to enable them to provide Critical Incident Stress Management training, a method of helping first responders and others who have been involved with events that leave them emotionally or physically affected.